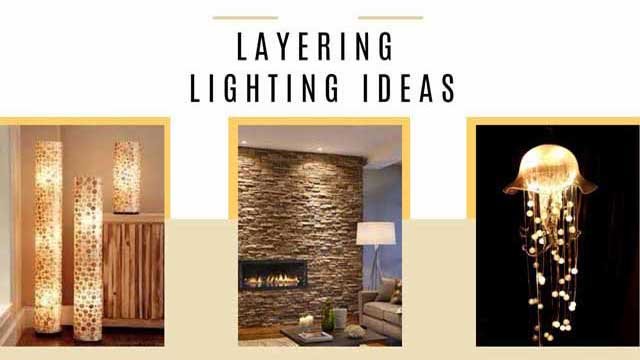 Lighting Tips for your Beautiful Home
Lighting plays a very crucial roll in space design. The way you light a room helps you control the ambiance, mood and size of the room. It is very important to know a right kind of light for each part of your house. Here are some useful tips for choosing a right light for a right room.
Living Room Lighting

–
Living Room is place where you and your family members spend long stretches of your time. For a Living room, the concept of layering lighting is important. Stylish Chandeliers, ceiling lights, decorative lamps can be used for ambient lighting in the room.
Bedroom

–
Bedroom is room where a relaxing and congenial atmosphere is welcomed. For a bedside reading, Wall hanging lamps are the best option. Each bed light should operate through its own switch. For a closet, ceiling light or recessed fixtures are used.
Kitchen

–
For  a modest kitchen, Central-ceiling fixture over the counters which provide ambient lights is suitable. Sinks are located near the window so as to provide ample number of natural light. However, Under-cabinet fixtures are used in modern kitchens so as to provide over the counter light.
Bathroom –
Bathroom lighting varies from bright lights in the morning to soft dimmer light for creating a Spa -like feel. Task  lighting is crucial for mirror and vanity area where self grooming sessions are performed. Recessed Ceiling fixtures over the mirror should be omitted so as to avoid casting shadows. Vertical light fixtures placed at both side of mirror helps in providing perfect light for the face.
Entrance, Staircase & Hallway

 –
The entry point for a house requires ambient light. Staircases should be litted from top to bottom so as to avoid accidents. For Hallways, ceiling fixtures, recessed light or wall sconce should be used for ambient light. For Houses, which have double height entry, stylish chandelier can be used with lighting controls from both top and bottom of the staircase.
Dining Area

–
For a dining area, table is the prime consideration so task lighting or light fixture over table will help in providing Congenial lighting atmosphere. Where wallpapers or other decorative material is used on walls of dining area, more lumens  may be required in the room's light fixture.
Checkout for more articles from Namneet Kaur at – https://archistudent.net/author/namneetkaur/