Construction Detail of Lift Elevator
Best Construction Details of Lift Elevator with Drawings
Lift Elevator Drawings
Structural Component of Lifts:- There are majorly 3 main components of a lift elevator.
Moist way or shaft or lift well
Machine Room
Lift lit
Terminology :-
Lift car
Pit
Lift lope ways
V groove
U-groove
Lift Car
Counter Weight
Driving Sheaves/Pulley
Hoist Rope
Guiding Rails- in which counterweights more
Guiding frames
Guiding shoes
Break
Electric drive motor
Power supply controller
Lift cars
Car Rails
Guiding Shoes(Below Cabin)
Car Frame
Classification of Lift Elevator :-

Drum Type- Rope wounds around a drum
Traction Type- Pulley/Breaks/Motor
Gearless
Geared
Types of Lift :- There are four types of lift
Passenger lifts
Hospital or Bed Lifts
Goods or Freight lift
Service lifts or Dumb waiter
Passenger Lifts–

These lifts are used in Low or Medium Class Flats (speed does not exceed 0.5m/s and carries 4-6 people), Office Buildings, Hotels and High Class flats.
Method of Operation-
Attendant Operation
Automatic Push Button
Selective Collective Group Operation(for particular floors)
Autotrophic(for high storeyed buildings more than 30floors)
Signal Operation
Shops & Departmental stores
These Cars are designed for 12-20 person
Hospital Lifts Elevator Drawings– Same method of operation – Automatic Push Button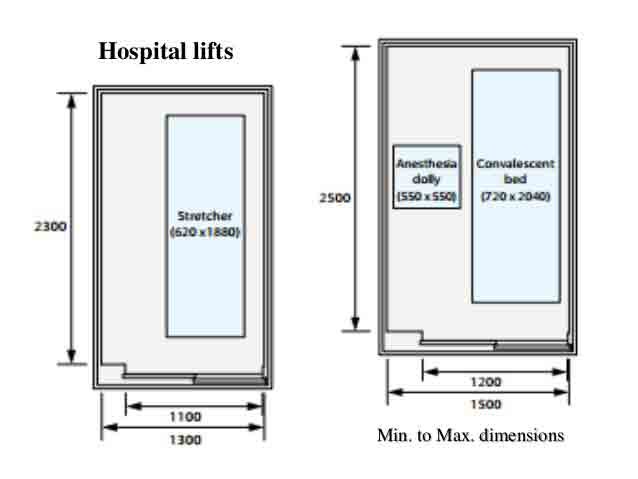 The efficiency of lift depends upon-
Quality- Average passenger, time at various floors
Quantity-No of persons/weight
Type of lift operations:-
Manual Car switch operation
Automatic-cum-attendant operation
Selective Collective Operation
Simplex
Duplex
Multiplex
Important Structural components:-
Arrangement of lifts
Location of lifts
Breaks
Rope & Rope materials
Here are drawings of Lift elevators with some of the specifications which may help in construction.
[embeddoc url="https://archistudent.net/wp-content/uploads/2010/08/Lift-Details.pdf" viewer="google"]