World Design Rankings 2019-2020
WDR Announces World Design Rankings in Arts, Architecture and Design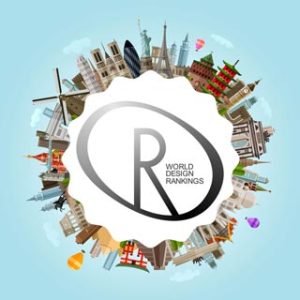 China takes the first place among 106 represented countries in 2019-2020 with 67 Platinum Design Awards won globally.
World Design Rankings (WDR) announced the updated design rankings of countries based on the number of design awards won at international juried design competitions and awards. China ranked as number 1 among the 106 represented countries, followed by United States of America, Japan, Italy, Great Britain, Hong Kong, Turkey, Taiwan, Germany and Australia which took the top positions in 2019. India banged 20th position in this ranking with 257 awards won.
World Design Rankings
The WDR – World Design Rankings aims to provide additional data and insights to economists and journalists regarding the state-of-art in design industry. The ultimate aim of the world design rankings is to contribute to global design culture through advocating and highlighting good design. The rankings aim to provide a snapshot of the state-of-art and design potentials of countries worldwide by highlighting their creative strengths, design weaknesses and available opportunities.
Six (6) New countries are included in the 2019-2020 rankings: Macedonia, Maldives, Lao, Swaziland, Kenya and Armenia. Top 10 did not change significantly this year, except for China taking the first place from USA.
Design Business Insights
Furthermore, for each country, three additional tables for strengths, weaknesses and opportunities are listed. The table of "Design Strengths" displays dominant design fields, in which a country is highly competitive and successful; i.e. for example you could learn whether Italy is better in Fashion Design, Furniture Design or Graphic Design. The "Design Weaknesses" table display design fields that are below average in comparison to other countries. The "Design Opportunities" table display latent design categories that could be further explored by the country.  To discover the complete list of countries included in the World Design Rankings, and to see in-depth design business insights for each country, you could check the World Design Rankings at http://www.worlddesignrankings.com
Every year the A' Design Awards and Competition highlights the best of the best in architecture, product design, art, illustration, film, and 95 other creative fields and rank them in World Design Rankings.
A' Design Award, recognizing the excellent and original design work from across the globe, is the highest achievement in design, a source of inspiration for award-winning designers, artists, architects, brands and design agencies.
Here is a list of some of the best award winning projects from art, architecture, furniture design, industrial design, product design and many more. Complete list of Award winners can be checked at – http://www.worlddesignrankings.com/